Chester Bowl has always been known for its open, caring, generous community. Community is not about a building, a natural space, or even about the activities that people do there. It is about the people.
One of the people that has best demonstrated what Chester Bowl is all about is Jeff Provost. Jeff was part of the Chester Bowl community for four decades before he passed away in March, 2020. The Provost family has honored Jeff's memory with a $2,000 donation to the scholarship fund, with additional commitments in future years.
Jeff and his wife Brenda moved into the Chester Bowl neighborhood in 1981. All three of their children, Megan, Tom, and David, learned to ski at Chester Bowl, and spent countless hours there with their neighborhood friends. Jeff and Brenda re-learned skiing here, and found themselves making friends here too, leading to multi-family ski trips to ski areas like Indianhead and Blackjack. Jeff was very involved in Chester Bowl as a volunteer, including being on the Board of Directors from about 1995-2000, and he was Board President for three years. He was involved in organizing parents' night, and was especially known for his season-ending pig roasts! One of the most special moments was when he was recently able to start skiing at Chester Bowl with his first grandchild.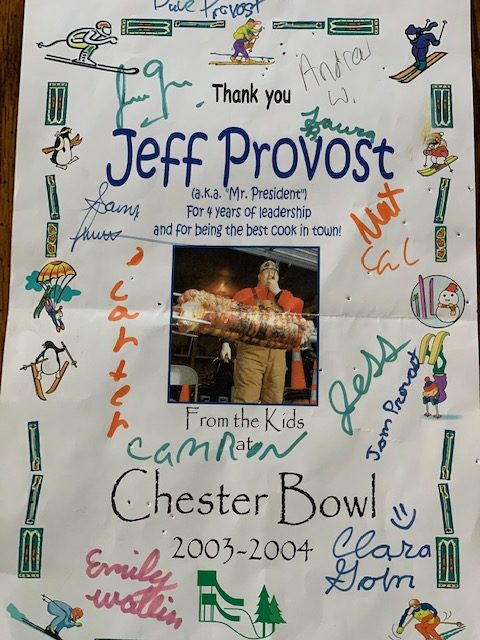 Chester was never just a winter destination for the Provost family- they were also part of the summer camp program. And as the Provost children grew up, they became teen volunteers here in the summer Incredible Exchange program and in the winter as Cadets.
When we asked Brenda why she chose to honor Jeff with a donation to the Scholarship Fund, she replied that "This park is part of the heart of our family. We always felt that this was a safe place for kids to be. The bigger kids were always looking out for the little kids, and it is one big family."
Thank you to the Provost Family for your donation to our scholarship program to honor Jeff. We are humbled that you chose us, and delighted that Jeff's legacy will continue to support the next generation of families here at Chester Bowl. We all miss Jeff, but we take some comfort that Chester Bowl is a better place because of Jeff and the Provost family.